We couldn't do what we do without the knowledge and dedication of instructors like Jay. Raised in Jasper, a small town in the Canadian Rockies, Jay works in Calgary as part of the K9 division of the Canada Task Force. We asked him some questions about his history as a dog handler and instructor to find out what it's like to work with teams like C-RAD and to pursue a career in this specialized field.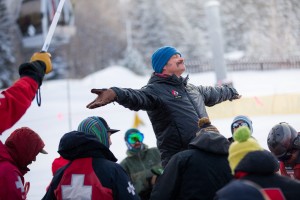 How did you become involved with training search and rescue dogs? What's your motivation behind being an instructor?
In 1990 I started working with a Parks Canada Doghandler with my first dog, Cruise. He guided me into the Canadian Avalanche Dog Rescue Association which I joined in 1993. After getting a job as a firefighter in Calgary in 1996 I realized that I wasn't really viable as a responder to avalanches and I asked to become an instructor so that I could continue my involvement in a meaningful way. I was already an outdoor first aid instructor and was enjoying it. I'd like to add that I had the incredible good fortune to be mentored as an Instructor by Roy Fawcett who was the RCMP dog coordinator for British Columbia and the Head Instructor for CARDA. Exceptional dog trainer and even more so a human trainer.
What do you enjoy most about training and working with dogs and handlers?
The people. Seeing the dedication and the sheer effort to learning the handling skills and relating to the dog is humbling. The vast majority of the students I've worked with are doing this to help others so I see the best in people.
How did you become involved with C-RAD? What's your favorite part about teaching at the C-RAD courses?
On one of the last CARDA (Canadian Avalanche Rescue Dog) courses I taught I met John Reller (dog handler at Arapahoe Basin and C-RAD instructor) and hit it off with him. I encouraged him to come to a course I was helping with in the Tetons, and after that course he invited me and Lane Crister to come to C-RAD. The energy at C-RAD is fantastic! The thirst for knowledge is tangible and the hospitality I'm shown is as good as it gets and I'm very grateful for it.
Also John has assembled a group of instructors that have a very different set of skills and background. We all get along extremely well because we are all dedicated to the student and respect the different ways and techniques each one of us has. It's a privilege to work with that sort of knowledge and open minds.
What do you enjoy about training avalanche rescue dogs specifically? What are the challenges? What are the rewards?
The dogs don't have an ego and the best search dogs are born for it so I get to see them do what they love. The challenges are finding out why this isn't happening and getting the complex part (the human) to recognize what they have to do. The reward is watching the bond develop when said handler sees their dog performing as a result of what they're doing. It's harder to get people to see what they're doing right sometimes.
How do you see C-RAD and programs like it continuing to evolve?
There will always be new ways and ideas so there will be some changes in the way dogs are trained. My hope is that the cooperation and mutual support that is so prevalent in C-RAD now is always part of the culture. I think it's important to any organization to promote everyone taking responsibility for the group. Leadership roles are very difficult, and without open communication and support from the group it becomes a soul sucking task. Developing mentorship is important as well. There are handlers who are on their own and really benefit from the help of an experienced team that can teach. On the ski hills a new team performs better with the help and support of the older teams. Again, C-RAD is in a position where this is happening now and have the opportunity to make it culture. Where support and guidance is a given.
What's your favorite moment from your work with dogs and handlers over the years?
Many favourite moments and I'll use a defining quote from a student I worked that sums up the privilege I've been given to teach search dog teams. "This is the coolest thing I've ever done." At that time that person was the youngest Canadian to ever climb Mount Everest.